Skip to Main Content
It looks like you're using Internet Explorer 11 or older. This website works best with modern browsers such as the latest versions of Chrome, Firefox, Safari, and Edge. If you continue with this browser, you may see unexpected results.
Selected Company and Business E-Books
Click the ebook titles below to read these popular ebooks relevant to companies and businesses.
Customer-Driven Operations: Aligning Quality Tools and Business Processes for Customer Excellence (Published in 2009) - This ebook covers the topics of business logistics, customer relations, and industrial and production management.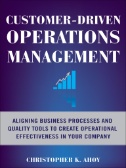 Family Wars: Stories and Insights from Famous Family Business Feuds (Published in 2010) - This ebook provides examples of conflicts that have occured in family owned businesses and provides information on how to deal with these types of conflicts.
You Can Do It Too: The 20 Essential Things Every Budding Entrepreneur Should Know (Published in 2010) - In this ebook, there are case studies of entrepreneurship and new businesses. Also, the topic of success in business is discussed.